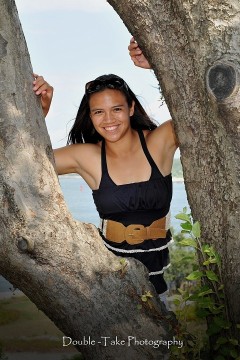 Double-Take Photography would like to introduce you to Nichole Jones, a high school senior at Lisbon High School and a member of the graduating class of 2014. As adults we often hear or see news which depicts the next generation of high school graduates as less than ambitious or lacking drive and direction. The result is we are bombarded with the negatives and shortcomings of the current generation of students and unfortunately lost in the shuffle are the positive stories of today's youth, overlooked for not being deemed newsworthy or sensational enough. We had the good fortune of photographing Nichole's senior pictures this past fall at Fort Williams Park in Cape Elizabeth, Maine.
We would like to share the release put out by Community Resources of the Lisbon High School Department.
Lisbon – Principal Kenneth Healey of Lisbon High School announced today Nichole Jones, a member of the Class of 2014, has been selected to receive the 2014 Principal's Award.  The award, sponsored by the Maine Principals' Association, is given in recognition of a high school senior's academic achievement and citizenship.  Nichole is the daughter of Lhu and Brian Jones of Lisbon Falls.
"Nichole has provided service above self in our community as a young adult volunteer in Lisbon Schools," shares Healey.  "She exudes leadership, compassion, dedication and caring to make significant contributions in the classroom and on the playing field.  She defines commitment assisting with Special Olympics and serving as co-student editor of the Yearbook.   Nichole was recently named a Mountain Valley Conference Academic All-Star in Field Hockey. Nichole provides excellence in all she embarks upon."
Nichole and Principal Healey and other award winners and their principals will attend an Honors Luncheon at the Spectacular Event Center in Bangor on Saturday, April 5, 2014 at 12:30 p.m.
The Honors Luncheon recognizes these outstanding students with the presentation of an individual plaque and the awarding of five $1,000 scholarships in the names of Horace O. McGowan and Richard W. Tyler.  Mr. McGowan and Mr. Tyler were former Maine principals and executive directors of the Association.  This year an additional five $1,000 scholarships will be presented through the efforts of the MPA Scholarship Golf Tournament and support from Berlin City Auto.
The Principal's Award is presented in more than 100 Maine public and private high schools by member principals of the MPA, the professional association which represents Maine's school administrators.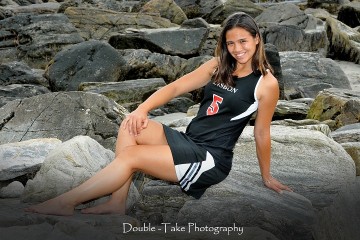 FMI Contact Monica Millhime
Community Resources
Lisbon School Department
754.0021 or email [email protected]